SmartHeart SmartPet Fair 2023 : A remarkable comeback of SmartHeart SmartPet Fair!
Kuala Lumpur – SmartHeart SmartPet Fair 2023, creates the unforgetable experience for pet lovers. This memorable pet fair, featuring various ranges of pet food under the brand of SmartHeart. Pet food brand, that is specially designed to meet daily needs of our beloved little friends of cat, dog, hamster, rodent and not to forget, birds!
The comeback of SmartHeart SmartPet Fair 2023 after a long break of pandemic Covid-19, sets another remarkable journey for being the first ever pet fair to be featured at the East Entrance Atrium of Mid Valley Megamall, Kuala Lumpur. The pet fair will take place from 21/June/2023 until 25/June/2023, from 10.00 am to 10.00 pm.
At the SmartHeart SmartPet Fair 2023, pet lovers can explore a captivating showcase of all ranges pet food category under SmartHeart brand; SmartHeart Cat, SmartHeart Dog, SmartHeart Gold, SmartHeart Hamster, SmartHeart Rodent, SmartHeart Bird and REFINE Premium Wet Food for Cats. Not only that, pet lovers can also enjoy mega product promotion up to 30% off, SmartHeart special merchadise, freebies, product sample and more!
Here comes the fun part of SmartHeart SmartPet Fair 2023! SmartHeart Checkpoint & games will be the main attarction of this pet fair. There will be four main checkpoints where you can enjoy activity and games such as SmartHeart Photo Booth, SmartHeart Wind Chamber, SmartHeart Wire Loop and SmartHeart MY Redemption counter. Upon completion of all the checkpoint journey, don't forget to redeem your SmartHeart Special Goodies!
The fun of SmartHeart SmartPet Fair doesn't stops here yet. Why? Because you will get a chance to win a trip to Thailand! All you have to do is, snap a photo of your beloved pets with any theme of Thailand, and submit your photo in the SmartHeart MY Mobile app. So make sure to install SmartHeart MY App to submit your contest photo. The contest duration of Fly with SmartHeart starts from 15/June/2023 until 30/September/2023.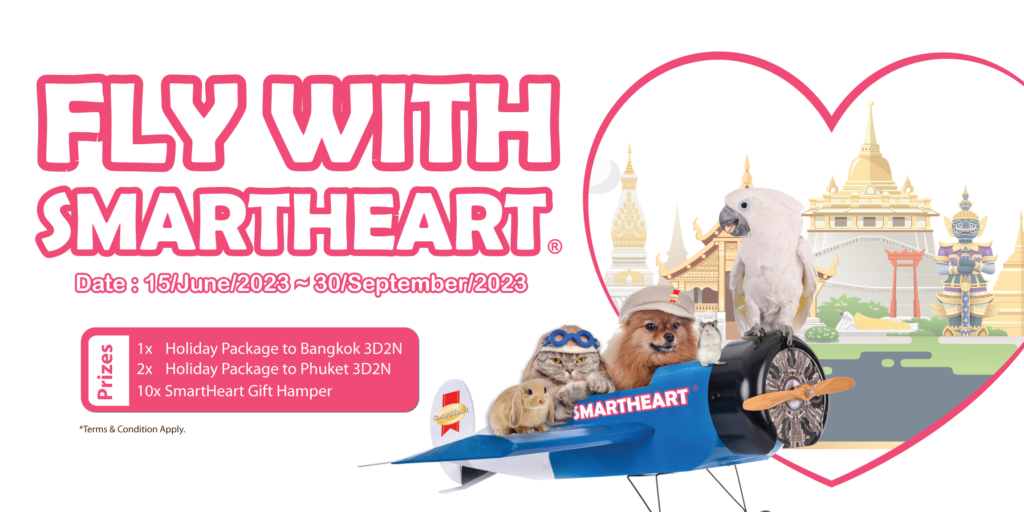 Prizes of Fly with SmartHeart : 1x Holiday package to Bangkok 3D2N, 2x Holiday package to Phuket 3D2N and 10x consolation prizes for SmartHeart Gift Hamper.